Thank you for your interest in Irish Wolfhound Rescue of Michigan. Here you can learn about adopting a needy Irish Wolfhound or how to place one that you can not keep. Our goal is to educate the public about the special needs and requirements of the breed.
We work with owners who, due to changed life circumstances, or discovery that an Irish Wolfhound is a Giant breed and not suitable for them, need to place their dog in a different home. Hopefully this will reduce the number of Irish Wolfhounds that end up abused, neglected, dumped into shelters, or otherwise given up, by owners who simply did not know enough about the breed to realize that perhaps it simply wasn't the right dog for their home and/or lifestyle.
If you need to place an Irish Wolfhound please
click here
to fill out a brief information form, or describing the dog and the circumstances. Please say where the dog is and the owner's name and contact information. We will get back to you within a day. You may also call 517-481-5594. If you get voicemail, please the same information on the voicemail. /div>
All adoptive homes are pre-screened and premise checked. We conduct a vet reference check, premise check and personal interview to be sure the applicant will provide a safe, loving and reliable home for the hound. We check to ensure that the home is properly fenced (which is an absolute requirement). We advise people to expect to be on the waiting list for at least a year, since we obviously have no idea how many rescues will come into our care during any given period.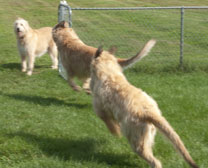 Our hounds are not placed on a first come first served basis. Each hound is placed with the home that will best meet his or her needs. Assuming everything checked out well during the prescreening process, you could get a call about an available hound next week, month or next year. We do ask that if you change your mind later about adopting, or if you move, that you let us know so that we can keep our files as current as possible.
Each hound's temperament is evaluated before placement. They are also health checked and neutered. No hounds are placed with temperament problems or serious, chronic illnesses. We are available to offer help and guidance with every placement, and require that a rescue hound be returned to Irish Wolfhound Rescue of Michigan if for any reason the placement doesn't work out or the adoptive owner can no longer keep it. We ask for an adoption donation to help defray costs.
If you feel you'd rather purchase an IW puppy, we strongly encourage you to contact the Irish Wolfhound Club of America to request the club's breed information packet that will give you a good, basic overview of the breed and the various resources available to novice owners or those who are looking for their first puppy, or hoping to adopt a rescue hound.
You should visit the IWCA's website for more information about the breed. Please avoid the puppy mill and "backyard" breeders at all costs. They are far more interested in your checkbook balance than in providing you with a well bred, healthy puppy, and will not be there for you later on if you have questions or problems.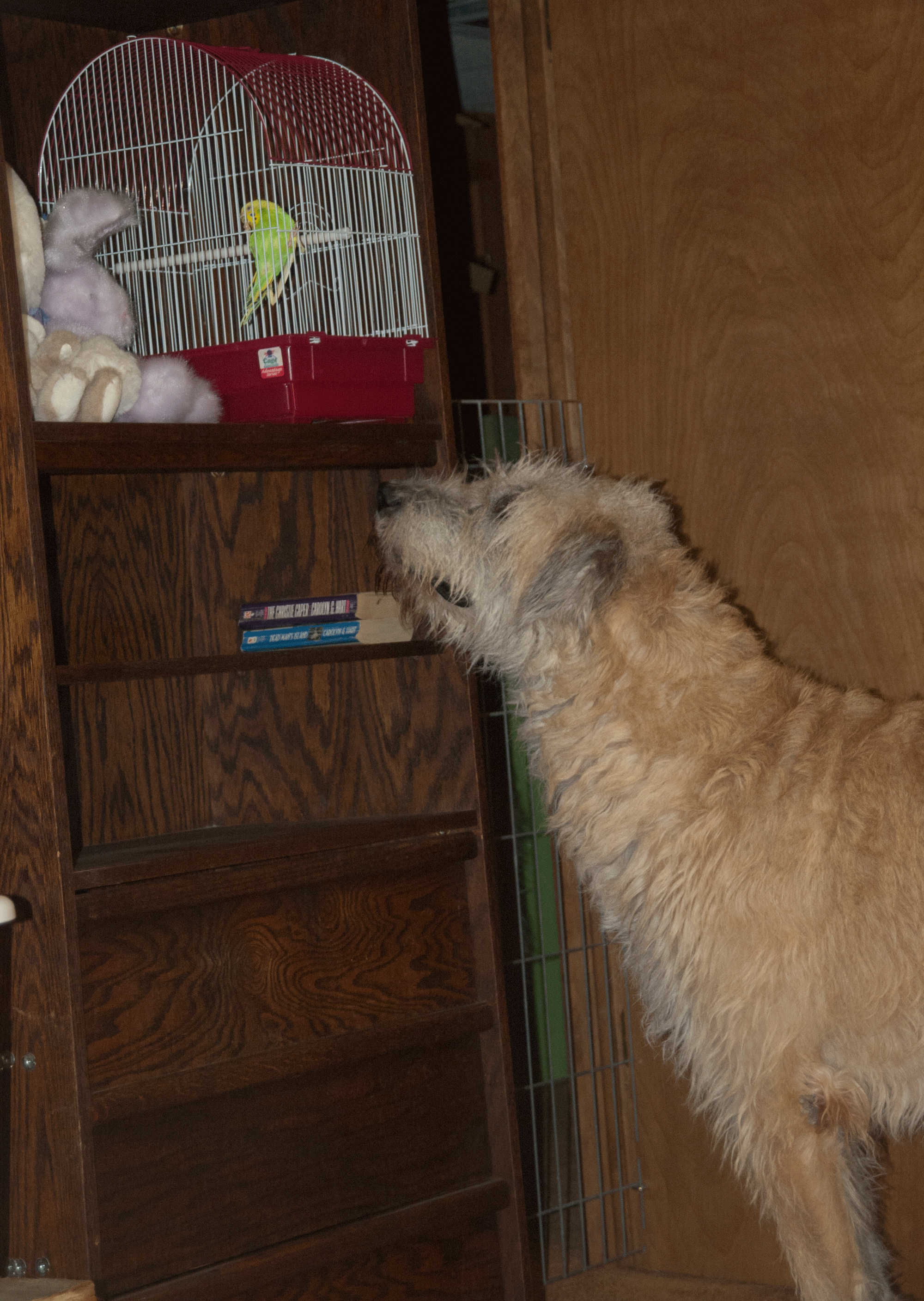 A reputable breeder will want to get to know you, and know a great deal about you, before considering placing one of their precious puppies with you. Reputable breeders want to make sure that the puppy will be going to a loving, reliable and safe home and will be there for you throughout the lifetime of the hound, and will even take the hound back at any time during it's lifetime, if for some reason you can't keep it.
A reputable breeder has many years of experience with the breed, and performs the various health tests that are so crucial prior to breeding, to ensure a healthy, sound litter. They know the individual dogs behind their puppies going back several generations, and are able to tell you whether or not their line has experienced things like bone cancer, cardiomyopathy, bloat, OCD, etc. If a breeder cannot or will not discuss these things with you, our advice is always to simply walk away! Look for an AKC Breeder of Merit.
Please note that a fully fenced in yard (4' minimum) is a requirement to be considered for an Irish Wolfhound rescue. Most breeders will also require a fence. If you wonder why, click here.
We hope that's enough information to get you started. Wolfhounds are indeed a very compelling, special breed, with very unique needs and requirements, and the rewards of sharing one's life with these Gentle Giants far outweigh the expense of ownership, the heartache of the shorter life span, etc. Good luck and let me know if we can be of any further help.
If you live in Michigan: Application for a rescue dog from Irish Wolfhound Rescue of Michigan
Again, thank you for your interest in Irish Wolfhound rescue and adoption.
William Drescher
LINKS:
if you have any questions or if you would like to help rescue Irish Wolfhounds (transportation, fostering,...),
or call and leave a message: (517) 481-5594 (an email is better if you can do that.)
Irish Wolfhound Club of America
---
Irish Wolfhound Rescue of Michigan is a 503(c)(3) Michigan Charitable Corporation. It is registered (#53669) with the Attorney General of Michigan. For verification
click to go to http://michigan.gov/charitysearch
Any money you could donate would be appreciated. No money is spent on salaries. All donations are used to care for the dogs, veterinary care, transportation, and the occasional Michigan or Federal fee to permit us to operate.